I dread being asked what I do for work when I'm out and about. I just can't help myself launching into a lecture on digital badges, their benefits, and their place in job hunting and recruitment processes. My friends roll their eyes and the poor witness to my sermon wishes they never asked.
The recognition of skills, knowledge and experience outside of formal qualifications is a tough nut to crack. In today's world where fluctuating economies force industries to pivot and freelancing is on the rise as a viable source of income, transferable skills have never been more important.
I finished university at the age of 24 in 2018 and thought I was the hottest of hot stuff. Then, despite having 10 GCSEs, 3 A-Levels, an NVQ, a B.Sc. (Hons) degree, and had been in regular employment or volunteering from the age of 16, it took me over five months to land a full-time job.
I just could not seem to get the hang of effectively communicating why my knowledge and skills meant that I was perfectly capable of doing a job.
63 applications. 9 face-to-face interviews, and many more online or over the phone. The whole experience was soul crushing and to say I was humbled is an understatement.
Now that I've been on the other side of the recruitment process through my job at Real Ideas and have the badge to prove it, I can see all the ways I went wrong in my job search (including one particular video interview mishap involving an inflatable giraffe that I still think about in the middle of the night sometimes).
I didn't have a collection of digital badges, but the more time I spend in Badge Nation, the more I see badges' place in the job hunting and recruitment space, and the more I wish I'd had them during my miserable job hunt!
LinkedIn is the most popular social media platform for jobseekers and recruiters alike. If you're lucky enough to have been issued with digital badges and have a LinkedIn profile, the two combined make a powerful tool.
Let's explore some ways that digital badges can contribute to a banging LinkedIn profile:

Earning Criteria
Perhaps you're struggling with what to put in the 'About' section on your LinkedIn profile or wondering what detail you can add to an entry in 'Experience'.
Every badge quality assured and published through Badge Nation details exactly what an earner did to earn it. Whether that be participating in a workshop, volunteering at an event, or doing their day job. Being issued with a badge is an organisation providing a reference that you did stuff and learnt things – use it!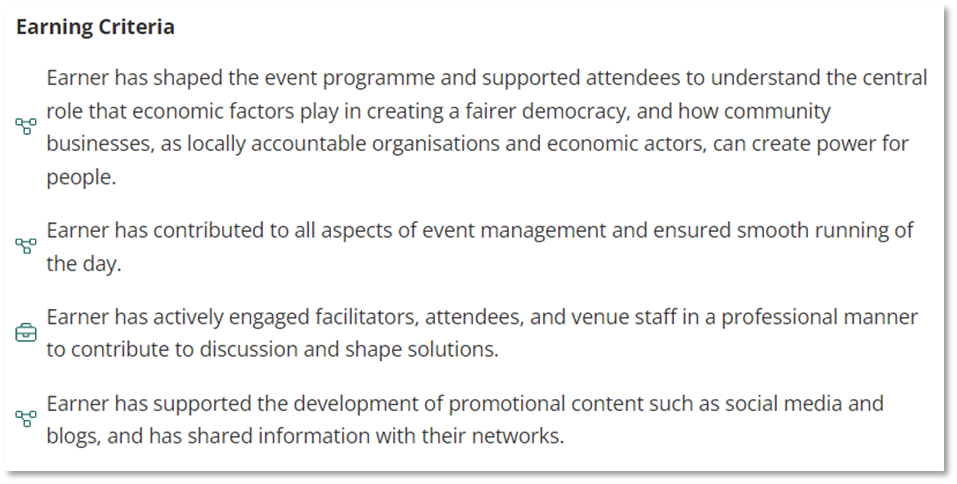 1. Copy the text.
2. Replace "Earner has…" with "I have…".
Done. You've just described your experience. Move on with your day.

Skills
Lots of people search for jobs they have already done based on descriptions, responsibilities, and tasks. Being able to identify skills that could be transferable is key in an ever-changing job market, but who can easily come up with this stuff?
A digital badge does this for you. Each badge contains a collection of tags that details the skills involved in earning the badge.

LinkedIn makes it really easy to feature skills on your profile by listing them in the 'Skills' section. If you have a badge, you already have a list. Don't even have to think about it.

Licenses and Certifications
Showing off your skills can be even smarter. My personal favourite way to use digital badges on LinkedIn is by adding them to the 'Licenses and Certifications' section of my profile.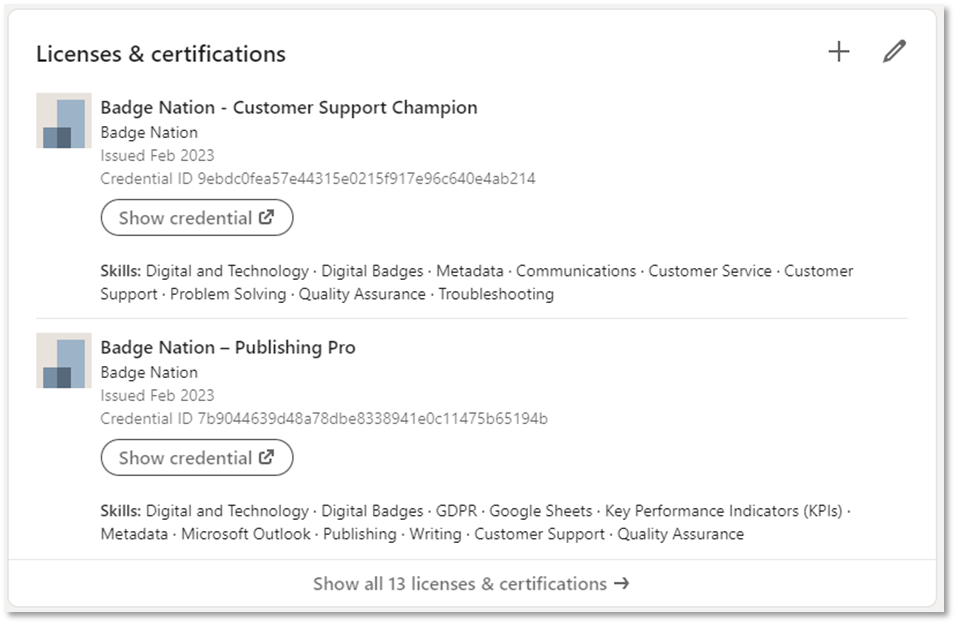 Lots of badge issuing platforms enable seamless sharing of badges to this section in as little as four clicks.
This allows you to clearly display every single one of your digital badges from different issuing platforms, associate them with transferable skills, and link to the verification that you have earned that badge.
This means that anyone viewing your LinkedIn profile; whether that be a recruiter, potential employer, or someone from your network, can click 'Show credential' and instantly see that the badge is yours and what you did to earn it.
When adding a badge to your profile this way, you can even attribute skills to each individual badge and have them automatically appear in your 'Skills' section, which shows viewers where those skills have come from.
This is a brilliant tool as it shows you haven't pulled a list of skills out of thin air. You learnt them and earnt them. Boom.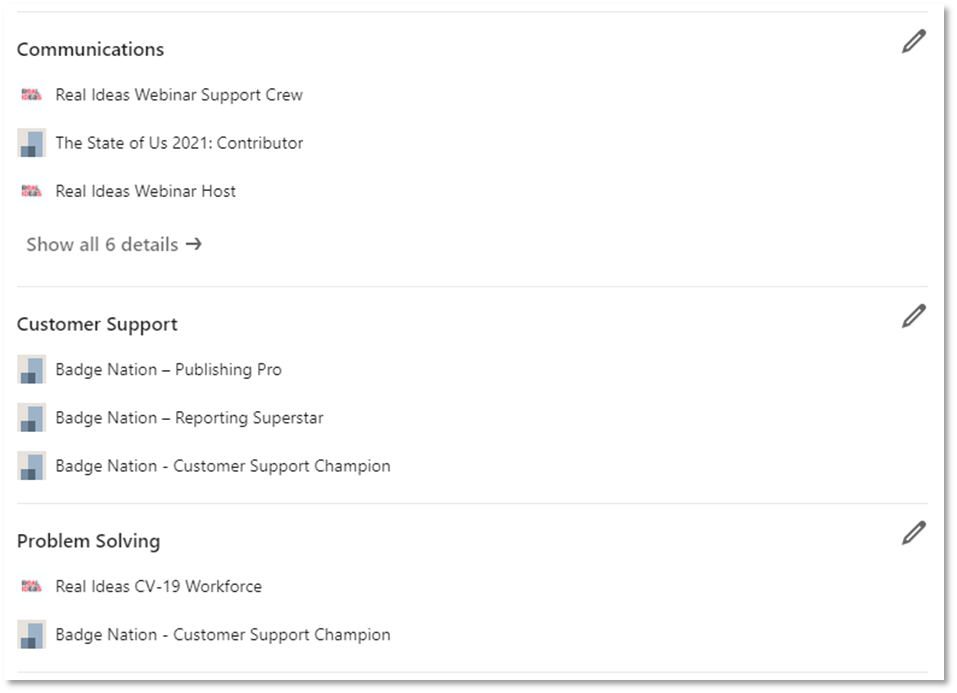 These are just some of the ways that digital badges can be used to show off your skills and experience. To find out more about how to use your digital badges, visit the Resources for Earners section of our Knowledge Base.