The perfect badging platform for large organisations
Open Badge Factory is one of the three issuing platforms we use and it's primarily used in our Badging at Scale packages, aimed at organisations who want to issue badges to lots of earners.
Whether you are a college, university or large membership organisation, they are designed to keep your ongoing technology costs low.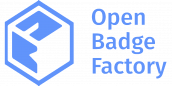 Open Badge Factory and sister site Open Badge passport are based in Finland and have been operating since 2013 run by digital badging legend Eric Rousselle. 
While the majority of the other digital badging platforms have been bought out by big multinationals, Open Badge Factory has always stuck to the values of openness and accessibility that drove Mozilla to start the open badge movement in the first place, resisting any private finance, equity investment or buy outs.  
This means that Open Badge Factory is the best value badge issuing platform around for badging at scale – and is packed full of features that have been developed over the years as a response to their customer's needs. 
Here's some of the great benefits when you use OBF as your issuing platform: 
Warning- about to get BADGE TECHNICAL
Open Badge Factory keeps technology costs low for large organisations wanting to badge. 
At pro level (which costs less than €1,500) you can issue up to 50,000 badges and if that isn't enough purchase another 50,000 for less than €500. 
All badges can are IMS global compliant and meet the most rigorous GDPR tests. Open Badge Factory servers are EU hosted. 
This means you can spend more time getting badging right for your organisation as the technology costs remain low. Tech is amazing but you'll always need to pay a human to drive it! 
Open Badge Factory makes it easy for the staff of larger organisations to adopt digital badges. 
Open Badge Factory has a range of 'off the shelf' plug ins for issuing from within existing Learning Management Systems including a plug in for Moodle and an LTI1.3 integration for Blackboard. The dev team at Open Badge Factory specialise in integration solutions and will be happy to work with and advise organisations for whom this is a priority. 
There are a range of advanced admin tools allowing institutions to assign different admin levels to different team members to enable good control of who can create, deliver or monitor badging activity, thus allowing good control of your offer. 
The platform has the ability to set up different sub organisations within one account, allowing different departments, teams or partners to have their own identity and communities of earners. 
It allows you to advertise badges to people, who can then apply to you to get them,  and submit evidence for review. This ensures really high rates of acceptance of these badges and means they are really valued by the earner. This and other associated features enable you to assign badges and pathways to people as targets and set objectives for them. 
Makes it easy for earners to display their skills and services. 
Like most platforms, earners can easily share their badges to their social feeds including linked In and put them on their e-mail footers.
Unlike any other platforms, earners can make themselves and the badges they have earnt visible on a map, meaning people looking for those services or who may be looking for individuals with particular skills sets, can find them easily and reach out via in platform messaging. 
It works with other badge platforms and can be used with people who don't want badges at all. You can collect badges from other platforms in your Open Badge Passport or – if the earner doesn't care about badges at all and doesn't want to bother with a Open Badge Account, you can issue them their badge as a block chain enabled PDF cert. 
These features can all be accessed through our Badging at Scale packages. Click here to find out more about Badging at Scale and Contact Us if you would like to set up a meeting to discuss your needs further.